Free Sneak Preview Event:
Network-Connected Medical Devices: What Could Possibly Go Wrong?
---
The Main Event:
The Symposium on Securing The Internet of Things (http://securingthenet.com) is taking a deep dive on what it will take to protect the billions of devices on which we depend for critical infrastructure, healthcare, and our homes. I'm leading a panel discussion on Security for Network-Connected Medical Devices. [See discount promo code at the end of this post.]
The event is March 5 – 7, 2018 at the Crowne Plaza Hotel in Burlingame, CA (near San Francisco Airport). [See agenda at http://42tek.com/STIOTAGENDArev6.pdf] The Medical Device session is targeted for March 7th. [Yes, I know this is during the HIMSS 2018 national meeting in Las Vegas, but not everyone goes to HIMSS.]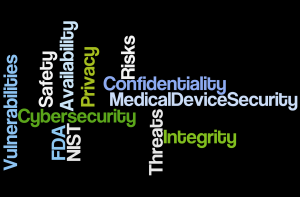 The session will address security topics in medical device design and manufacturing, usage in hospitals, remote monitoring, and related legislative, regulatory, and standards initiatives. So far, Bill Saltzstein of Code Blue Communications, and Peyton Paulick Kochel, Ph.D. of Proteus Digital Health have agreed to participate in the panel and May Wang of Zingbox is slated to be a keynote speaker at the event.

In addition to the Keynotes and Track Sessions, there will be an Expo Hall with companies exhibiting their solutions. The Symposium offers a variety of options for participation, which include different levels of sponsorship, exhibitor tables, and special options tailored to the sponsor's specific interests. Details are on the web site. (I can arrange discounts for the items over $1,000.) If you can't make it, you may wish to do something like place an ad in the Show Guide.

If you just want to attend the Symposium, here is a discount promo code to get the Early Bird Rate of $195, instead of $695: security
[Registration link: https://www.securingthenet.com/register]
Some references on the medical devices topic may be found here.